The Senior Resource Center welcomes Holly Duffy as our new "Footcare Specialist". She is now taking appointments for your footcare and nail cutting needs. Please call her for an appointment at 715-699-9987.
Here's a little about Holly: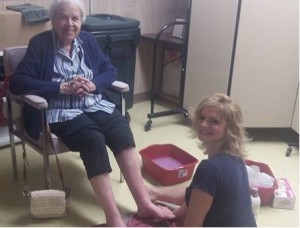 "My name is Holly Duffy and I am a lifelong resident of the Hayward Area. I was born Holly Hartnett and married Brian Duffy in 1992. My very first job when I was 15 was at Golden Living (used to be Valley Health Care Ctr.) where I was a CNA. I also worked in the Activities Dept. and the kitchen throughout the summers. I attended the University of Minnesota, Minneapolis and graduated with a BA in Sociology. Upon my husbands college graduation we moved back to the Hayward area. We now own Northwoods Stove and Fireplace right on Hwy. 63 and I have also been working at Water's Edge Care Center part time as a CNA and Homemaker for 3 years. I love working with the elderly and am excited to offer footcare services at the Senior Resource Center in Hayward. If you would like to make an appointment with me I can be reached at (715)699-9987."
We hope that you will contact Holly for your footcare needs. We are also in the process of renovating a private room for these services at the Senior Resource Center. Unfortunately, due to insurance liability we will no longer be able to provide footcare for those with diabetes. Medicare does cover nail cutting for those with "diabetes". There are doctors and clinics in the area that provide these services. Medicare does not cover nail cutting for those who do not have diabetes, unless you have some other serious chronic condition that is preapproved by your clinic prior to the procedure.